How do our Schulz ball transfer units actually get to your "place of work"?
With SMAid -Schulz Mounting Aid
SMAid helps you to carry out the final assembly of Schulz ball castors safely, easily and quickly. The non-slip handle fits well in the hand and the hand is additionally protected by the striking edge at the end of the handle. The actual impact heads are exchangeable and designed in such a way that you only ever hit the impact area of the ball caster. The ball and thus the running surface always remain protected! Now available from us!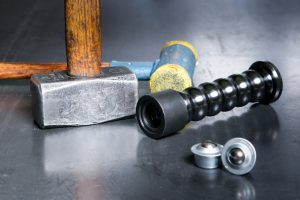 For further information please see under: